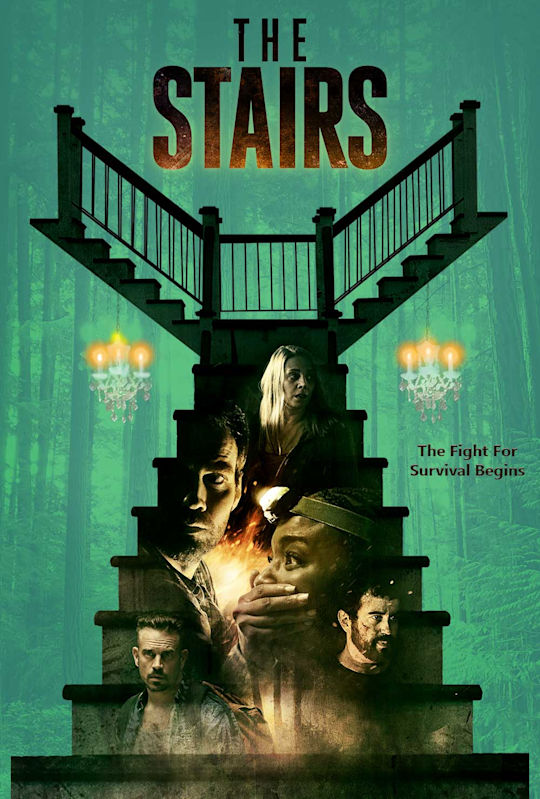 In Theaters Aug 12
The Stairs (2021)
An 11-year-old boy finds a mysterious staircase in the woods and disappears while on a hunting trip with his grandfather. Twenty years later, a group of friends set of into the very same woods where they come face to face with very same set of stairs. Worlds collide as some lose their lives and others step up to become heroes.
A frightening tale about a group of hikers hunted by a sinister presence in the woods. Twenty years after the mysterious disappearance of an 11-year-old boy and his grandfather, a group of friends find themselves along the same trail, unaware of a long-forgotten evil lurking just beyond the tree line. What started as a week-long adventure with friends, quickly turns into a terrifying fight for survival as they come face to face with the thing that nightmares are made of.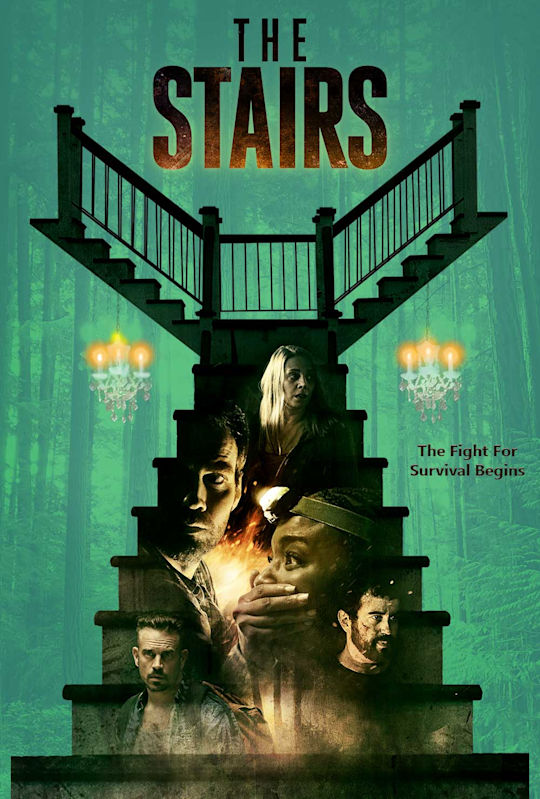 Run Time: 1 hour 48 minutes
@ 2020 No Sleep LLC #TheStairs
Grandma Bernice Martin
Kathleen Quinlan
Grandma Bernice Martin
Kathleen Quinlan
Kathleen Quinlan is an Academy Award® Nominated Actress for her Supporting Role in Apollo 13. She got her break in acting when George Lucas came to her high school to cast for his movie American Graffiti. Quinlan's breakthrough performance came in 1977, as Deborah in I Never Promised You a Rose Garden. She also starred in the TV series Family Law.
Grandpa Gene Martin
John Schneider
Grandpa Gene Martin
John Schneider
John Schneider's big break came when he won the role of Bo Duke on The Dukes of Hazzard (1979) on CBS from 1979-1985. He later became a very successful country singer and had several hit songs including "I've Been Around Enough To Know" and "Country Girls." He is also known for playing Jonathan Kent in Smallville.
Born and raised in Toronto, Canada, Adam Korson trained at Randolph Academy for the Performing Arts in acting, singing and dancing. He is best known for playing Josh Bloom in the hit TV Show Imposters. Korson also stars in Syfy's Surreal Estate.
Gabriel Mason
Russell Hodgkinson
Gabriel Mason
Russell Hodgkinson
Russell Hodgkinson appeared in a slew TV shows including Leverage and Grimm before being cast to play the "lovable stoner" Doc on the SyFy original series Z Nation.
Brent Bailey starred as famed JFK speechwriter Ted Sorensen opposite Oscar® nominees Woody Harrelson and Richard Jenkins, in Rob Reiners LBJ. On TV, Bailey has had numerous diverse and compelling roles on hit shows like N.C.I.S, Lucifer, Agents of S.H.I.E.L.D, Criminal Minds, Rizzoli & Isles and many others.
Image Gallery